Notes

Dedicated to all the consumers who choose to live in harmony with nature.
A whole range with 100% organic ingredients:
both extra virgin olive oil and aromas come from organic farming. They are officially certified by ICEA, an Italian Institute for Ethic and Enviromental Certification Internationally renowned. Only natural methods are used in the organic agriculture without any artificial fertilizers or chemical pesticides.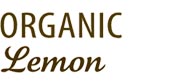 It is ideal for salads and marinades, very good for fish (boiled and roasted) and special on poultry and vegetables.
It suitable to flavor the dough for cakes.
...on grilled fish, chicken, vegetables. Anything where you want to add lemon flavor.